Nestled in Bangladesh's hill tract region, the Bandarban district is one of the country's hidden gems boasting pristine and picturesque natural beauty. Communities in this area, however, face myriad challenges due to being relatively secluded and people can't always access essential services or markets.
Ms. Zing Pian Mawi Bawm from Happy Hill Para knows these struggles all too well. For most of her life, Ms. Bawm worked as a jhum farmer — an indigenous agriculture practice where farmers produce multiple crops on small plots of land throughout the mountainous terrain — and earned a meager annual income of approximately 50,000 Bangladesh taka ($595 USD).
The USAID Sustainable Agriculture and Production Linked to Improved Nutrition Status, Resilience, and Gender Equity — or SAPLING project — has been working to identify key crops grown in Bandarban and link local producers to marketplaces to sell their produce. Turmeric, ginger, and woven textiles were among the first value chains the project focused on.
But for smallholder producers like Ms. Bawm, coffee provided a golden opportunity to utilize their wealth of knowledge in cultivating crops on hillside terraces, intercropping and integrating coffee plants into their plots of land.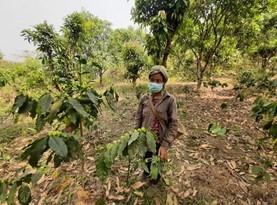 In January 2017, Ms. Bawm enrolled in USAID SAPLING project homestead food production training, where she learned about new and improved methods to produce vegetables to feed her family and sell the surplus for extra money. Seeing initial results of her training, she also joined a training to learn to grow coffee. While she had experience growing coffee, it had only been for household consumption.
Historically, coffee has only been grown in Bandarban on a small scale. Only 65 of a total 220 coffee producers trained under the USAID SAPLING project had previous experience in coffee production. Many of those producers were only selling coffee plants — not coffee beans — due to the lack of developed markets.
Coffee is ideal for Bandarban for two reasons. First, Bandarban's climate, soil and elevated altitude support growing arabica coffee beans. Second, coffee is perfectly suited for harnessing the region's established agricultural practices among jhum farmers like Ms. Bawm. Coffee can easily be intercropped and sustainably produced, offering a diversified income source for poor farmers and providing them with the potential to reach a growing global market in selling good-quality coffee grown in Bangladesh.
USAID has built the production capacity of local farmers and provided them with business-skills training. The project has also introduced depulping equipment to help producers quickly shuck the coffee cherries and dry their beans, increasing the value of their beans, improving quality control, and boosting their prospects for higher sales volumes.
In August 2018, USAID sent Ms. Bawn and five other top coffee producers from Bandarban to Nepal to attend a four-day specialized coffee production training. There, they learned new techniques in propagation, nursery management, intercultural operations, and proper post-harvest handling of beans.
Upon her return, Ms. Bawm, trained 13 fellow coffee producers in her home village of Happy Hill Para, and another two dozen from surrounding areas in the technical aspects of production, including the proper distancing of seedlings, pruning, fertilizing, and post-harvest management.
In her efforts to share the knowledge she gained with her peers, Ms. Bawm helped others improve their coffee production, along with her own, and she has also built her confidence and has established herself as a well-respected local resource on coffee.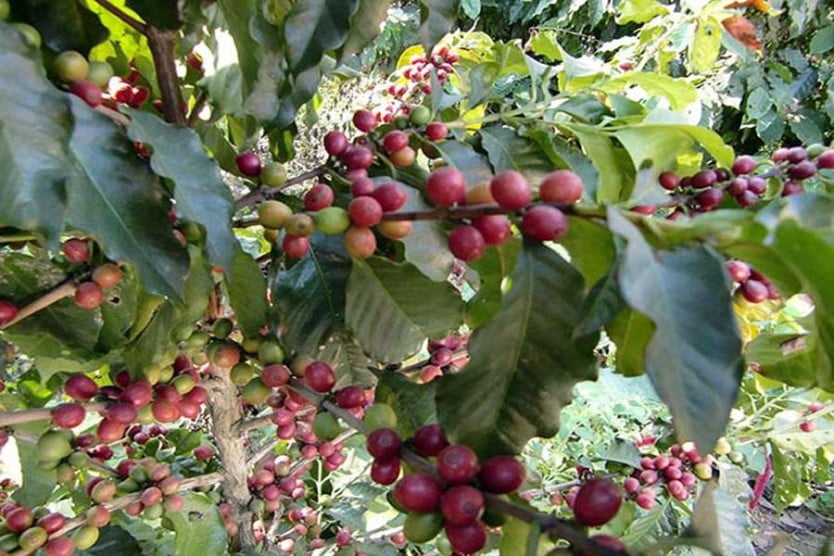 Now, coffee has become a key source of additional income for Ms. Bawm's family. In 2020, despite COVID-19 restrictions, she earned an extra 14,500 taka (approx. $175 USD) from selling beans and coffee plants, and raised her total annual earnings to 134,000 taka ($1,580 USD) from a variety of livelihood activities — nearly tripling her previous annual income levels.
Coffee producers around the world, particularly women, tend to work strictly as day laborers. Their work consists of manual labor and they rarely have decision-making power over production or income. Ms. Bawm's training, and her subsequent knowledge sharing has been vital for empowering the other coffee producers under the SAPLING project in taking ownership of all aspects of their production.
To date, the project has empowered 220 women — nearly all of them from ethnic minority groups like Ms. Bawm — by helping them hone their skills in coffee production and business literacy training, and applying higher-yielding, climate-smart agricultural techniques.
Now, these poor, female producers have the agency to set more favorable negotiation terms, manage income, and make decisions on their production operations on their own.
North End Coffee Roasters, a highly successful coffee chain in Bangladesh, partnered with the Sapling project's implementing organization, Helen Keller International, from an early phase to create a market demand for smallholder farmers to sell their beans. North End also committed to collaborate with the project in improving livelihoods in the Bandarban district by improving coffee production and purchasing all coffee produced by USAID Sapling-affiliated producers at a fair market price.
As the USAID SAPLING project draws to a close in 2021, USAID's Bandarban Agriculture and Nutrition Initiative (BANI) has picked up the efforts to engage coffee producers and continue addressing capacity development and market facilitation needs. USAID is continuing to foster Bandarban's nascent coffee producers like Ms. Bawm by equipping them with the skills and knowledge they need to harvest and sell their unique hill tract coffee beans.
Source: USAID Press release