French press, also known as a press pot or plunger pot, is a method of manually brewing coffee using a cylindrical glass or stainless steel container and a plunger with a metal or nylon mesh filter. The procedure is steeping coarse coffee grounds in hot water before pressing a plunger through a mesh filter to separate the liquid from the grounds. A flavorful, full-bodied coffee is the end result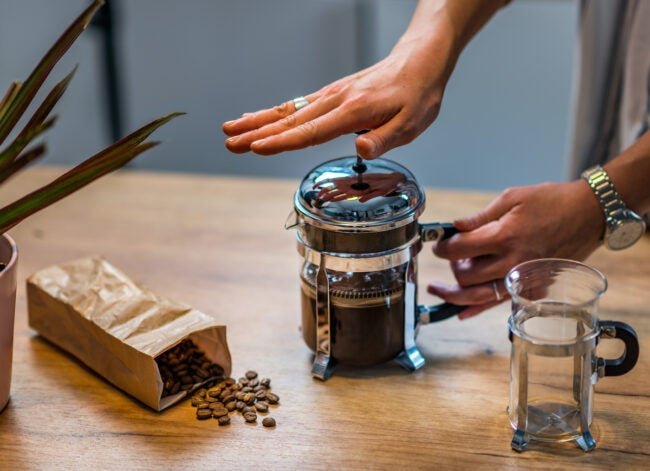 Types of FRENCHPRESSES
Glass French Press: Made with a glass carafe and metal or plastic frame, this is the traditional style of French press and is perfect for those who prefer a simple and classic look.
Stainless Steel French Press: This type of French press is durable, rust-resistant and perfect for outdoor or travel use. The carafe is made of stainless steel, which keeps the coffee hot for a longer time.
Insulated French Press: This type of French press features double-walled insulation, which helps to keep the coffee hot for hours. It is made with a stainless steel or glass carafe and is a great option for those who want to enjoy a hot cup of coffee in the morning.
Travel French Press: Designed to be portable, this type of French press is compact and lightweight. It is perfect for those who are always on the go and need a convenient way to make a delicious cup of coffee.
Electric French Press: This type of French press features an electric heating element, which allows for automatic temperature control. It is a great option for those who are looking for a hassle-free way to make coffee at home.
Stovetop French Press: This type of French press is designed to be used on a stove or campfire. It is made of durable stainless steel and is perfect for outdoor adventures and camping trips.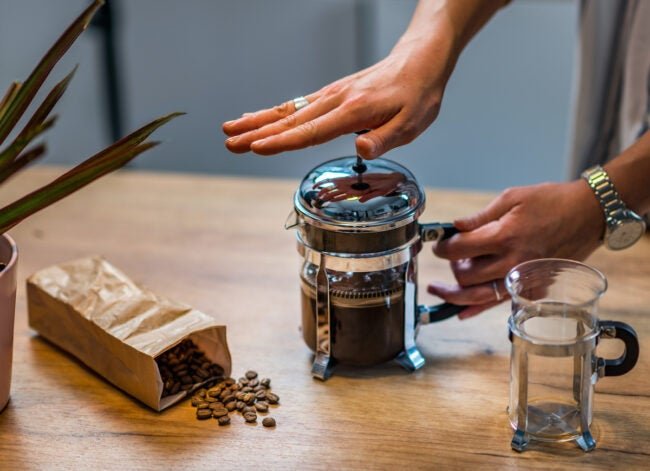 HOW TO USE? FRENCHPRESS
A French press, also known as a press pot or plunger pot, is a method of manually brewing coffee using a cylindrical glass or stainless steel container with a plunger and a metal or nylon mesh filter.
To use a French press, follow these steps:
Boil water: Fill a kettle with water and heat it to the desired temperature (around 200°F).
Grind coffee: Use a burr grinder to grind coffee beans to a coarse texture.
Add coffee: Put the coffee grounds into the French press.
Pour hot water: Pour the hot water over the coffee grounds and let it sit for 30-60 seconds.
Stir: Use a spoon to gently stir the coffee to make sure all the grounds are saturated.
Add remaining water: Fill the French press with the remaining hot water.
Steep: Let the coffee steep for 3-4 minutes.
Plunge: Slowly press down on the plunger to separate the coffee grounds from the liquid.
Pour: Pour the coffee into a mug or carafe and enjoy.
It is recommended to clean the French press after each use to prevent residue buildup and ensure optimal taste for future uses.