If we look back a decade ago, there were very few authentic coffee shops or cafés were visible in Dhaka's gastronomy landscape. But in last few years, the game has changed a lot; there are lots of cafés now in Dhaka city. And the newest addition to this is the Coffee Avenue.
Well, Dhanmondi has lots of cafés now-a-days, and they are running quite well. Some big international brands, as well as local brands- are serving good coffee and providing good ambience to have great 'addabaji'. Why people should go to the newer cafe? To understand that, Team Coffee Protidin went to the café.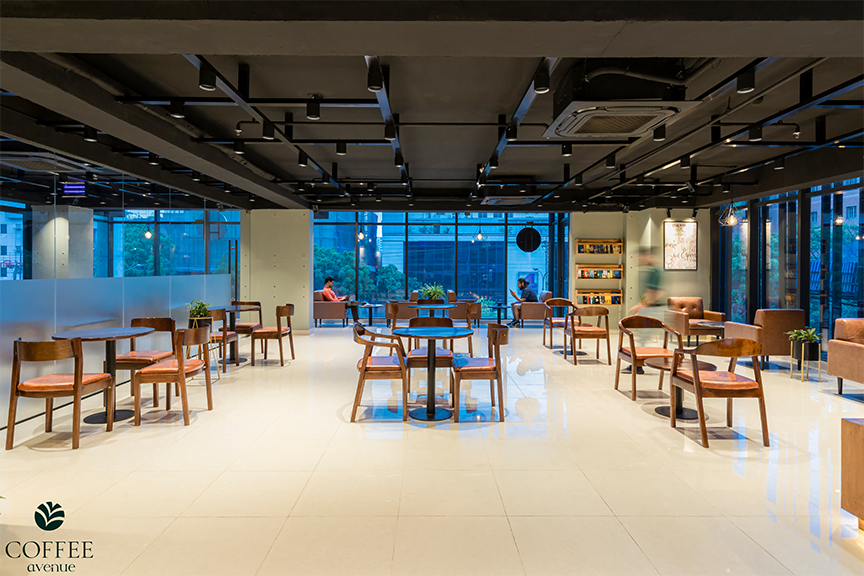 At the western end of Road 27, Dhanmondi, there is a very newly built state of the art structure- Concord Mumtaz Karim Heritage. And there you can see the 2nd floor- with the sign of Coffee Avenue. Due to glass wall you can see people chatting, eating something and sipping on their coffee. Coffee is the thing we can die for, so we joined to that crowd few moments later.
At the very first, we were amazed by its size; it is more than 4000 sft! And at the same time its sitting capacity is very low! They keep the place very open, though they had options to triple it! The white tile and naked black ceiling complements each other. There are different types of sitting arrangements; people can enjoy their coffee with the books from the shelf. There is a big smoking area, I guess this is the largest smoking zone in any cafes in Dhanmondi area.
Their coffee menu is bit different from others. They organized their coffee menu in three different subheads- Frosty Espresso, Espresso and Iced Espresso. They also have their special drink C-Avenue House secret!
We took an Irish coffee, a Hazelnut latte, and definitely an Americano! With that we took butter croissants. We ordered the Irish coffee from curiosity that how they adopted this kind drink on their menu. Hazelnut latte is quite regular now in café menus, but best drink to understand bean quality and café standard is the Long black or Americano.
Irish coffee or caife Gaelach is a caffeinated alcoholic drink consisting of Irish whiskey, hot coffee and sugar, which has been stirred and topped with cream. But do not worry; there are at least 10 ways to skip the alcoholic part, substituting by other ingredients. Here, in Coffee Avenue, the barista makes it with vanilla syrup. The result is impressive, if you are a sweet-tooth. But be cautious, this drink should be taken through the cream, not with the cream!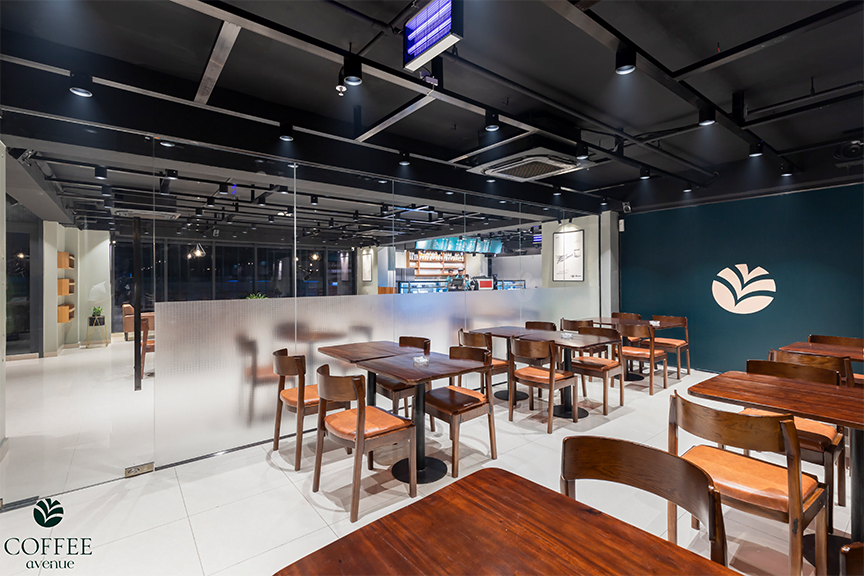 Hazelnut latte was good. We found flavor of the coffee and hazelnut both in that drink which is a rarity. Usually in Dhaka when you ask for a flavored latte, you will find only the flavor, coffee has minor role there; but here we found good balance between coffee, milk and hazelnut.
As I am not a sweet tooth, I just tasted their Irish coffee and Hazelnut latte, but I really enjoyed my favorite Americano with double shot of espresso. Well an Americano is simply espresso shot(s) with hot water. The crema remains to the top, giving you a delicious coffee drink with all the oily rich notes you love. The crema lives on!
Italian Espresso in general is a very bitter form of coffee, and while adding water to it to make an Americano can help cut that a little. This technique was invented by Italian café owners during the World War II for American soldiers. No wonder, Americano is the Italian, Spanish and French word for American! I like the strong, natural bitterly-sweet flavor of coffee, so this is my favorite. And with a mouthful of butter croissant, this coffee tastes like something extra-ordinarily heavenly. When we were indulged in our croissant and coffee an attendant came to us and politely asked for our opinion.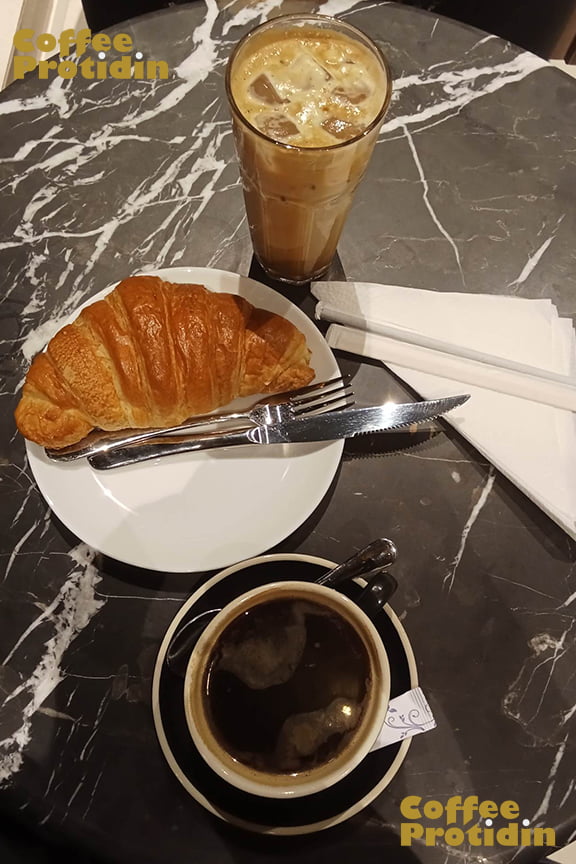 Owner of the place Mr. Arsalan is a very young and coffee enthusiast. He said to Coffee Protidin, 'actually this place is for all type of people, beyond age, gender and class. There are lots of cafés in Dhanmondi, but we want to stick with good coffee and the rest is in the hand of coffee lovers.' He added, 'Every coffee places has its own target group, here we have created a cozy atmosphere where people are coming for meetings, hangouts or 'addabazi', even few are doing their works through laptop with a sip on our coffee. So, we have the environment for everything'.
Well, when I personally go to a new café, I always see their customer service, cleanliness, atmosphere, products, accessibility, community and lastly how happy their barista is! In all categories Coffee Avenue passed with distinction to us!