Coffee beans are the seeds of the Coffea plant, which are roasted and ground to make the popular beverage of coffee. They come in various types and varieties such as Arabica and Robusta,Liberica,Excelsa, and are used to make different types of coffee such as espresso, cappuccino, and latte. The flavor, aroma, and strength of coffee depends on the type of bean, the roast level, and the brewing method used.
Liberica : Originate From WEST AFRICA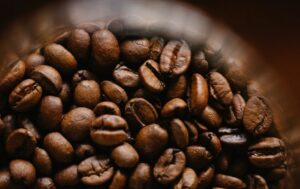 Liberica coffee beans, also known as Liberica coffee, are a type of coffee bean that comes from the Coffea liberica plant. These beans are grown in countries such as Philippines, Indonesia, and Malaysia. They are known for their large size, and have a distinct flavor profile that is often described as fruity and floral. Liberica coffee beans are also known for their high caffeine content, which makes them a popular choice for those who enjoy a strong and energizing cup of coffee. Additionally, Liberica coffee is known for its unique scent, which is often described as having a hint of smokiness. This type of coffee is considered to be a rare and unique specialty coffee that is enjoyed by coffee connoisseurs around the world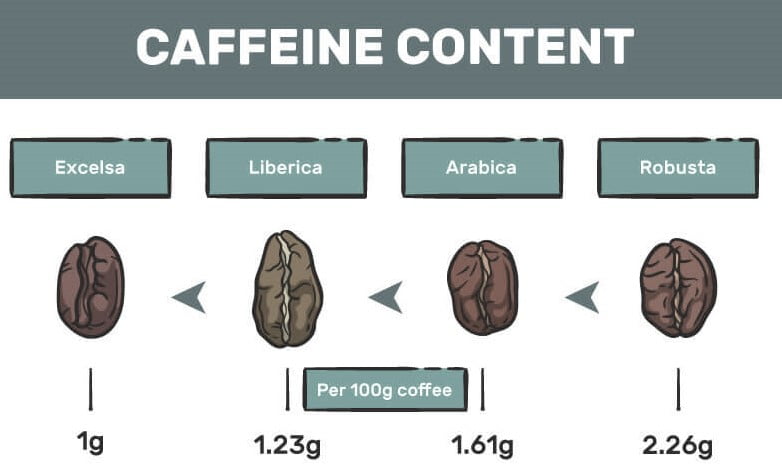 Excelsa coffee beans contain 1 gram of caffeine.
Liberica contains 1.23 grams.
Arabica contains 1.61 grams.
Robusta contains the most caffeine at 2.26 grams
Excelsa : Originate From SOUTHEAST ASIA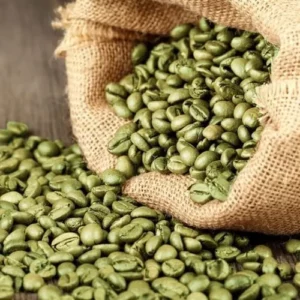 Excelsa coffee beans are a variety of coffee that is known for its unique flavor profile and characteristics. They are grown in various regions around the world, including Africa, Asia, and South America.
The flavor of Excelsa coffee is described as being complex and fruity, with notes of berries, dark chocolate, and spices. It is known for its high acidity and medium to full body. The beans are typically medium to large in size and have a dark green to purple color.Excelsa coffee is often used in blends to add a unique flavor and complexity to the cup. It is also used as a single origin coffee, particularly in specialty coffee shops and roasters.The trees that produce Excelsa coffee beans are known for their hardiness and ability to grow in a variety of conditions. They are typically grown at higher elevations, which can contribute to the flavor profile of the beans.
Excelsa coffee beans are a unique and flavorful variety of coffee that is sought after by coffee lovers and roasters alike.
Robusta : Originate From AFRICA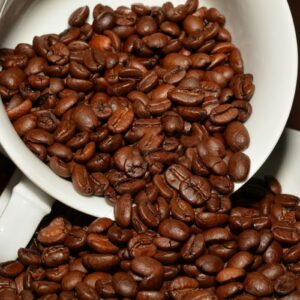 Robusta coffee beans are a type of coffee bean that come from the Coffea canephora plant. They are known for their strong, bold flavor and high caffeine content. Unlike Arabica beans, which are grown at high elevations, Robusta beans are grown at lower elevations and are more resistant to pests and diseases. They are also considered to be less flavorful and less delicate than Arabica beans.Robusta beans are used in many commercial blends, as well as in instant coffee and espresso. They are also used to make some specialty coffees, such as Italian-style espresso. The beans are typically larger and more oval-shaped than Arabica beans, and have a more uniform size and shape.Robusta beans are grown in many countries around the world, including Africa, Asia, and South America. The beans from different regions can have slightly different flavors and characteristics, depending on factors such as altitude, soil, and climate.
Robusta coffee beans are known for their strong, bold flavor and high caffeine content, and are often used in commercial blends and specialty coffees

Arabica : Originate From ETHIOPIA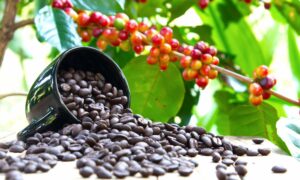 Arabica coffee beans are a type of coffee bean that is known for its mild flavor and low acidity. They are considered to be of higher quality and are more expensive than their counterpart, Robusta coffee beans. Arabica beans are grown at high altitudes, typically between 3,000 and 6,000 feet above sea level, and are known for their complex flavors, which can range from fruity and floral to nutty and chocolatey. They are also known for their lower caffeine content, which makes them a popular choice for those who are sensitive to caffeine. Arabica beans are grown in many countries around the world, including Ethiopia, Colombia, and Brazil, and are considered to be the most popular type of coffee bean in the world