Park Street is my favorite destination for coffee and books in Kolkata. There were Barista, Starbucks and definitely the heritage tea room Flury's. And for books there was the Oxford Bookstore, which had the beautiful café. Due to Covid-19, I took a long break from going there, and exactly four years later when I stepped on the pitch of the Park Street, I discovered more options for coffee and books.
I found Delhi's one of the top booksellers Bahrisons in Park Street as a potential rival of Oxford Bookstore. But my eyes got stuck on one particular restaurant, which is standing nearly for 84 years there- the Trincas'. When I visited last, it was a restaurant cum bar, and certified heritage property. Now they have a small café at the corner portion- Craft Coffee, along with Trinca's Restaurant and Bar.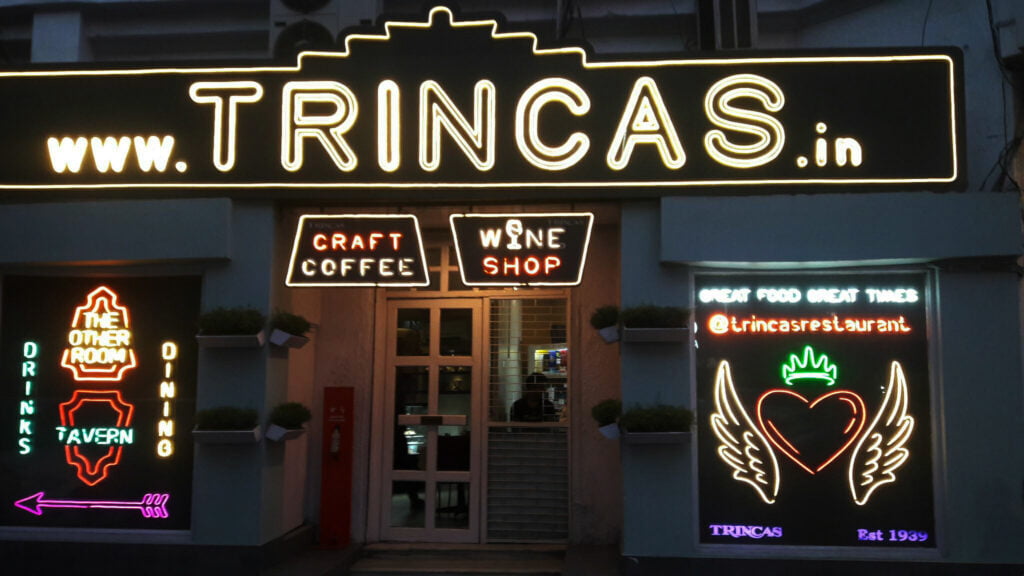 I actually went there for a cup of good double shot Americano or Long Black with Doppio. But there unique menu totally dazzled me. I was just stunned by looking at their artisanal coffee list. Their coffees are single origin estate blends that means, the beans they are buying come from one specific geographic location and not from a single farm. This is the way how they drive down pricing of their precious drinks.
They have Cappuccino, Latte (also available in vegan form- almond/soya/oat milk), Flat White, Cortado, Milk Mocha, Nutella Cappuccino and regular instant Nescafé milk coffee as hot drinks. From 100% Organic Arabica beans they make hot black coffees- Espresso, Americano and Macchiato. Apart from these regulars they offer cold soaked black coffees, which have lower acidity and caffeine- Cold Brew Immersion, Cranberry Cold Brew, Cold Brew with Honey, Cold Brew with Cream and Tender Coconut Cold Brew. In their Cold Brew ranges, they have cold or iced coffee too- Iced Americano, Iced Cappuccino, Cranberry-Lime Coffee Tonic , Trincas' Classic Cold Coffee, Vegan Iced Latte and Trincas' Classic Cold Coffee with Icecream.Apart from the Trincas' Classic Cold Coffee with Icecream,they also have Ice cream blended coffees- Honey-Oatmeal Cookie Blend, Chocofill Cookie Blend, Choco-Brownie Blend and Peanut Butter Blend. As I told earlier, I was dumbstruck! So, I decided to try something new! My eyes were trapped on the Cascara. That means they are brewing the sundried coffee husk! I read so many articles on this, but I couldn't believe that the Cascara is available at Trincas'! They are selling this as Ginger-Lemon Hot Cascara, Ginger-Lemon Cold Cascara, Cold Brew Cascara, Cranberry Cold Cascara and Cascara Tonic. So, without giving a second thought I placed my order of Plain Cold Brew Cascara to understand the true flavor, aroma and taste of this unique drink.
In Yemen (Abyssinia) it is a traditional Friday drink! And this drinking tradition has at least a few hundred years' history. But Cascara's worldwide popularity came from Aida Batlle, an El-Salvadorian coffee farmer few years ago. Since then it is very common drink in American or European cafés due to its lower caffeine properties.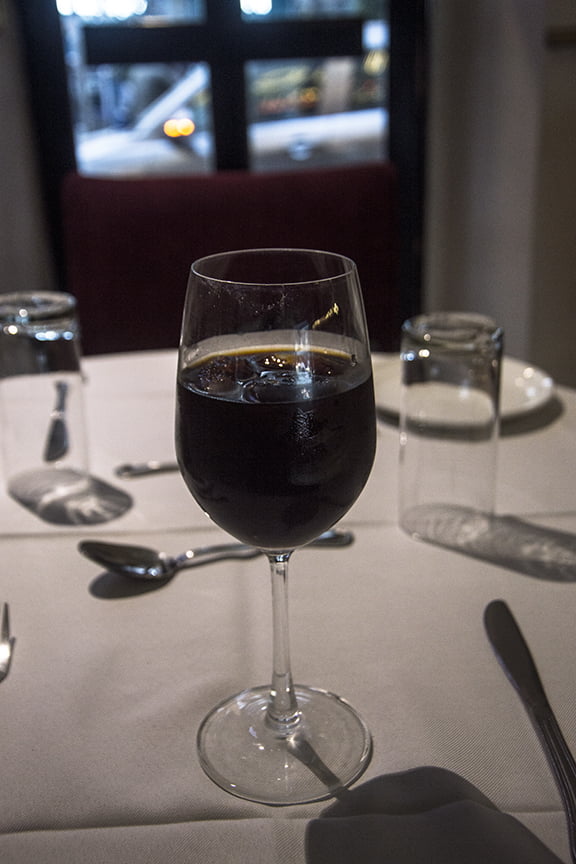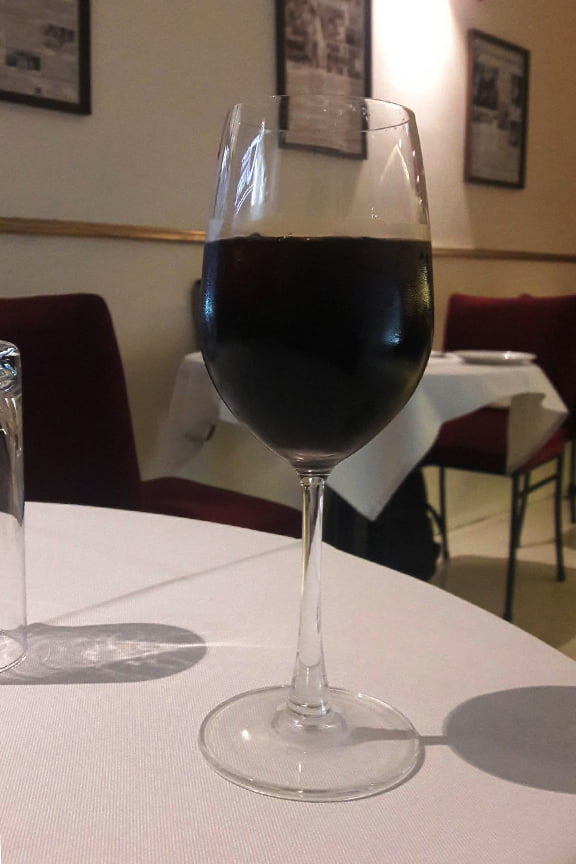 Whatever, after a couple of minutes, my precious glass of wine has arrived. What else I can say about that liquid! Two cubes of ice were floating on the top of reddish-black ambrosia inside of a wine glass. As this drink was totally new to me, it totally fooled me with the taste! At the very first, I sniffed- it was a floral fragrance with a hint of honey! I asked the barista, if there is any honey in my glass, the barista smiled and answered negatively! There isn't a drop of honey or sugar in my drink, but I was getting enough sweetness from it. Although it comes from the coffee plant, Cascara tastes nothing like coffee when brewed. Because it's brewed from a dried fruit, it most closely relates to an herbal tea or tisane, when the coffee is just the seed. It had slightly tangy taste, refreshing and bit sweeter tone from berries. Then I asked for few dry husks to taste the raw husk! Barista smiled back and gave me a glass jar full of the Cascara. I carefully picked one, chewed- it was just like other dried berries! ‍At first two or three chews, I taste nothing! Just earthy, bit of damp thing. But next few chew gave me a hibiscus-y, orangy, berry-like flavor, and of course that had a sweeter tone!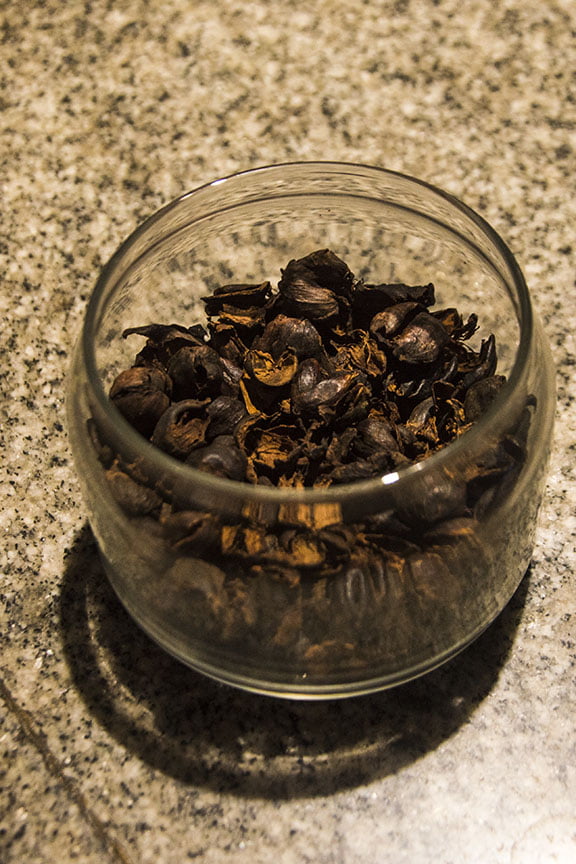 Then I ordered another drink, Tender Coconut Cold Brew! Honestly I was in experimental mode on that evening. The first sip took me by surprise and refreshingly so! Cold brew with infused coconut water made through an immersion technique was less acidic and healthy. We will talk about that some other day, if we get the chances.
Trincas' debuted at its present location on Park Street as a tea-room and bakery in 1939. In 1959 it changed ownership and has evolved over the years, adding cuisines, live entertainment, and secret spaces. In the 1960s, they introduced the super-popular tableside preparation of Cona Coffee (now known as Syphon Coffee), the city's love for this dark, stormy beverage ascended new heights. Cona Coffee involved an exotic looking chemistry-set featuring a burner, glass globes, stoppers and receptacles and produced an intense, rich, dark brew. Based around this grew the cult of coffee and the popular Ladies' Coffee Meets.
These festive occasions at Trincas' in the 1960s featured fashion shows, quizzes, music and performances. A vibrant subculture was very much alive, albeit in a different form than it is today.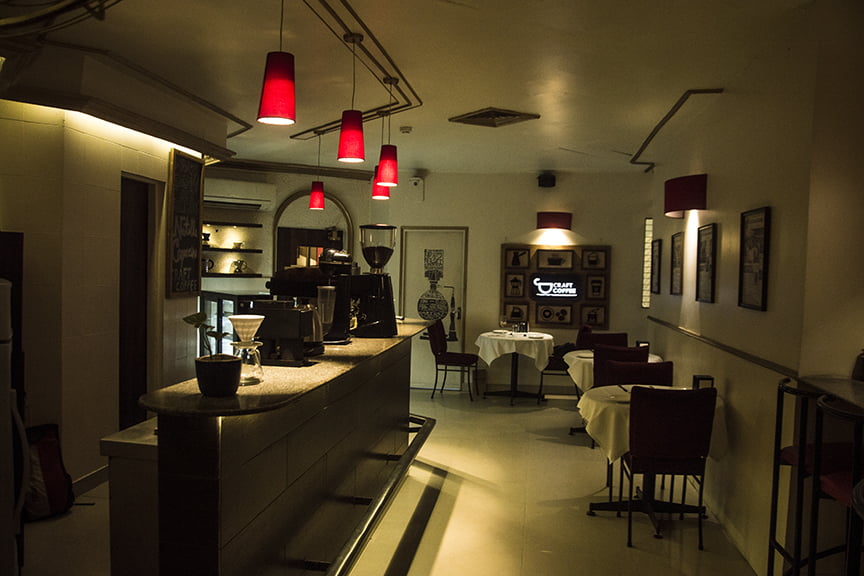 This is probably the most unique restaurant cum café in the city. It has history and a cultural legacy. Every true-blue Calcutta family has a memory about Trincas'. If you want good coffee, and you are in Kolkata- Craft Coffee aka Trincas' is the place.